Eucharistic celebration on the occasion of the Dedication of the Lateran Basilica in Rome and the 18th Beatification Anniversary of St. Bonifacia.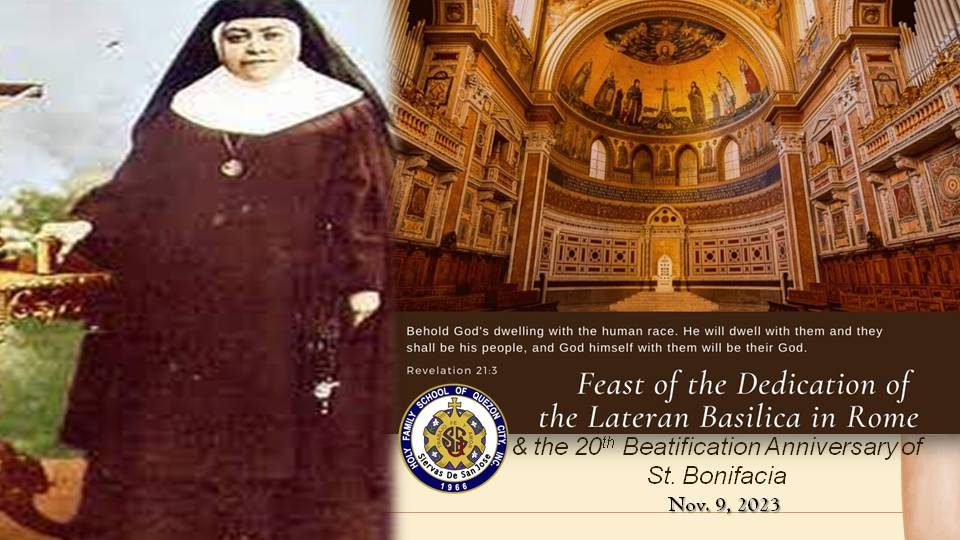 Today the Church celebrates the feast of the Dedication of the Lateran Basilica in Rome, the oldest and highest-ranking of the four major basilicas in Rome. The Basilica of St. John Lateran is the cathedral of the Diocese of Rome, the official ecclesiastical seat of the Holy Father, the Bishop of Rome.   In this solemnity, the Word of God recalls an essential truth: the temple of stones is a symbol of the living Church, the Christian community, which in their letters the Apostles Peter and Paul already understood as a "spiritual edifice," built by God with "living stones," namely, Christians themselves, upon the one foundation of Jesus Christ, who is called the "cornerstone".
       Today we also commemorate the 18th anniversary of St. Bonifacia's Beatification.  She lived all the dimensions of her person and all the circumstances of her life from the perspective of faith in Jesus the Worker in Nazareth. St. Bonifacia's life and mission is the exemplar of stewardship.